Store management software and its benefits
Store management software was formerly known as Storeroom Management Software or Stockroom Management Software. Store Management Software helps you to maintain your purchase, stock and consumption in an accurate and faster manner.
Who can use this software?
Departmental Stores

Grocery Stores

General Stores

Retail Stores
What is store management software?
A proper Store Management Software helps you to maintain the supply and consumption level in your factory. This software keeps track of required items and their inventory in the store room. You can also manage your purchase and control rejections. The primary aim of this software is to make sure there is adequate stock in place in the store when required. Plus this software helps the store manager to track down all the required items from different departments in your factory / office.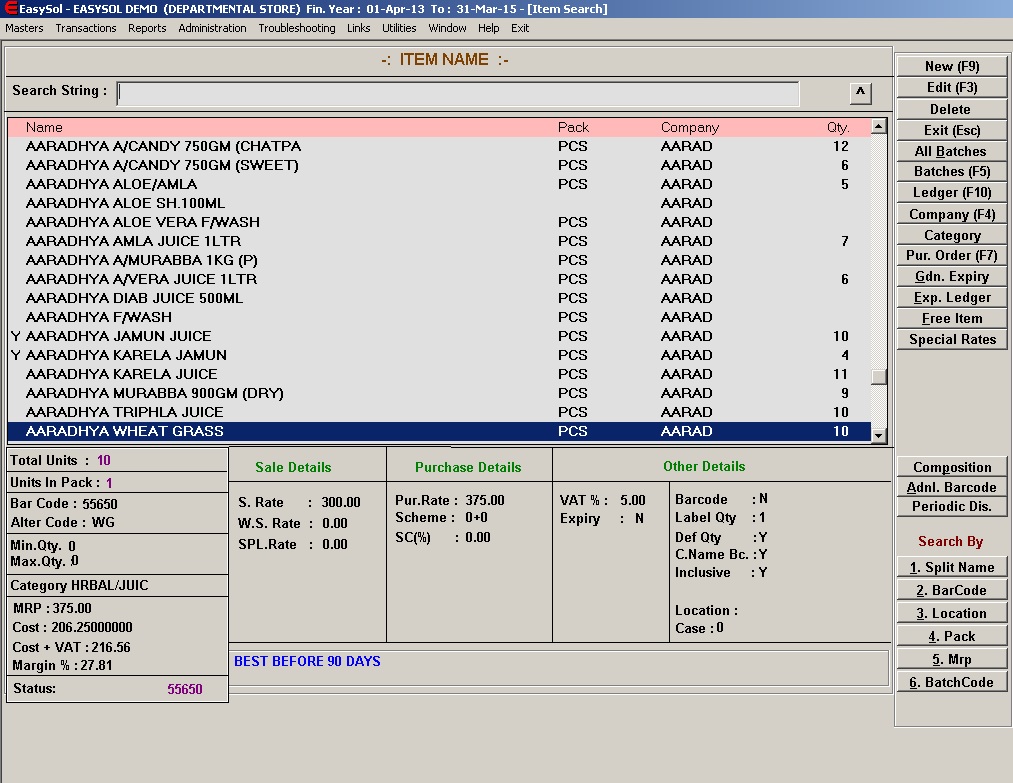 Why do I need store management software for my factory?
Everything takes place rapidly in the current scenario. This is why you need a store management software. Store management is a challenging task. Mistakes are bound to take place. This may cost the store dear and have a negative impact on the functioning of the store. An effective Store Management Software will simply put an end to some common problems faced daily:- "I never get anything in store when needed." "My Store Manager always over purchases things." "Stock valuation is never perfect." "Lots of money is blocked in dead stock." If you frequently hear these complaints in your company then you should get a good quality store management software now. By implementing store management software you are not just maintaining your stock properly but also saving lots of money on unwanted and dead stock.
What are the features and benefits of Store Management Software?
Discount Feature – Discount and Schemes
Items Wise Double Percentages Discounts

Item Wise Double Volume Discounts

Four Different Discounts on Complete Bill

Party Wise Discounts & Schemes Pre-Fixing

Data Wise Schemes, Quantity Based Rate & Discounts

Various types of Schemes, Like A Item Free with B Item Etc.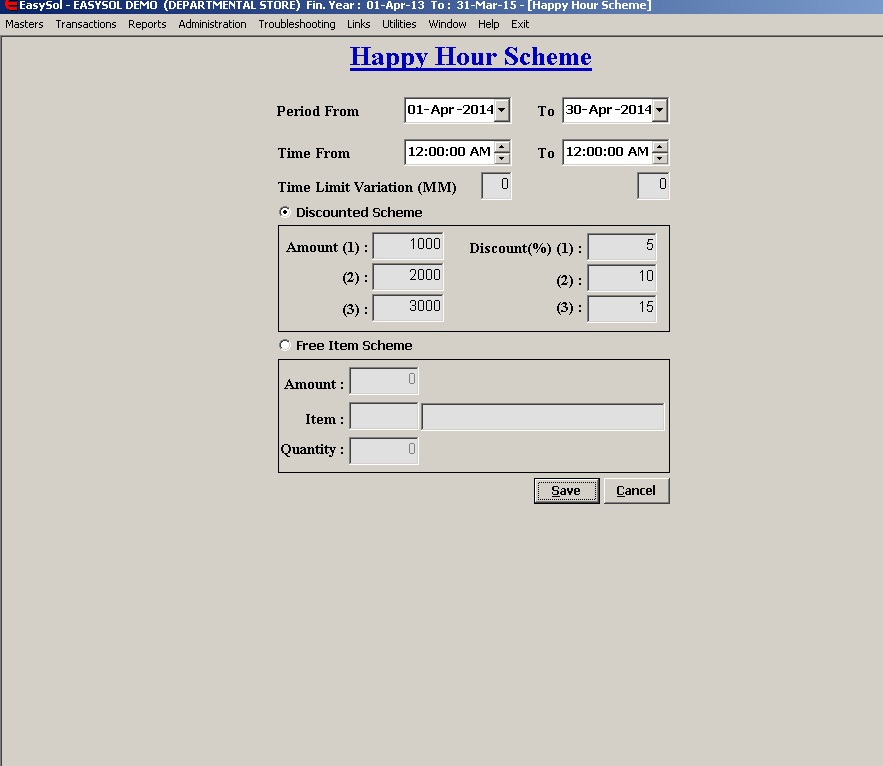 Technical and Functional Features Benefits
AIS compatibility

Ability to handle big ticket items

Complete Inventory & Accounting Management

Sales by customer type to improve customer service, run loyalty programmes and target promotional activity

A proven, stable, flexible, quick to learn and simple to deploy solution.

We respond to all retailers' multi-channel merchandising needs, saving time, increasing sales and margins, while minimising stock.

Inventory & Accounting Management

Easy & Fast Billing

Multi Discounts & Scheme

Set of Items (Selected Items Sales on Single Selection)

Other Item Schemes

MRP wise Stocks & Auto Rate Calculations

Make Smart Purchase & Re-Ordering System

Control & Reduce Inventory Cost

Improved customer satisfaction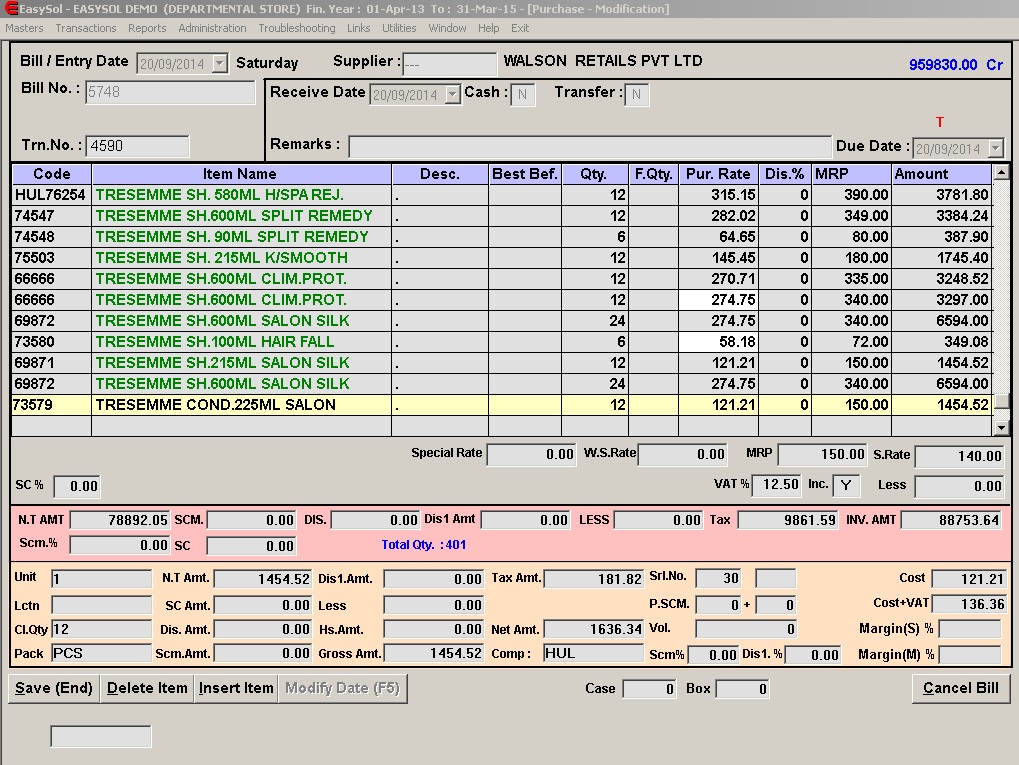 Finance and Accounts Features and Benefits.
Multi Rate, Price List, & Discount

Cash / Credit / Split Invoice & Challan

Sales Return & Replacement on Sale Bill

Party Wise Rate, Discount and Scheme

Salesman / Route / Area Wise Bills & Reports

Indication for Loss, Min, Max, New / Old Rate & Expiry

Negative Stock Billing Facility

Self-Designed Price List (Set Formula in Price List)

Sales Return on Same / Separate Bill & Its Adjustment

Back Date Stock Position at the Time of Billing

Switch Over from Bill to Bill Anywhere

Godown- Wise Billing & Stock Position

Bill Import / Export & Message on Bill

Auto Calculation of Levies & no Chance of Manual Mistake

Display last four Deals at the Time of Billing

View O/s Stock, Ledger. Last Deal of Sale & Purchase Returns, Receipt Payment Bill Modification at the Time of Billing

Counter Sale Entry Provision

Party History Dashboard on Party Selection

Provision to Load Item from Other Bills
Visit the below links to know more about our Store Software